Isn't it annoying when you think a meeting went really well but then you never hear back from the other person. Don't worry, you're not alone. This is such a common issue when you're new to sales. This article addresses the most effective way to eliminate this problem with the power of questions in sales.
​​​​But first, I want to tell you something about people
When George Bush Sr first ran for president, his wife Barbara Bush, had to pick an issue to promote in the event he won the office. After much thought, she decided upon literacy. The campaign staff was informed and they promptly went about doing their thing.On a campaign stop, she was ushered into a meeting where the hostess said, "We are so excited about your visit. I have gathered literacy experts, 45 of the most informed people, I can't wait to hear what you have to say".
No one told anyone on the campaign that Barbara knew nothing about literacy. Before entering the room of experts, she had an idea. She asked the audience, "If you were married to the President and had the opportunity to really make a dent in the field of literacy, what one thing would you do? How would you go about it?" Forty-five arms shot up and the remainder of the meeting was ablaze with excellent suggestions.
Barbara's takeaway? "People would rather hear themselves talk than someone else. When in doubt, keep quiet, listen, and let others talk. They'll be happy and you might learn something."
The novice trapdoor
As a novice to sales, the curse of knowledge creates a trapdoor, plunging you into sales obscurity. The default mode is to talk and pitch your product. Doing so, you're metaphorically opening the trapdoor, throwing sales efforts into a dark bottomless pit. Talking about your services is not selling. Selling is about helping the other person understand why they want to pay you to help them get what they want.

Power of questions
Humans have a shorter attention span than goldfish. The more you talk, the more likely the person you're talking to will check-out.
Have you ever listened to a podcast, got distracted for a second then tuned back in only to realise you had no idea what was said? People do that with you too, and often. More than 50% of what you say is forgotten when the meeting ends. The more you talk, the more they forget.
Generally speaking, people listen passively, not actively. If you're selling something new, doing all the talking doesn't help them gain awareness of the problem. Bringing a problem to their awareness requires their brain to change gears, which can only happen with cognitive activity.
Asking questions has been the cornerstone of education for centuries. Questioning is a powerful tool to help people learn, retain, and understand.
Has this ever happened to you?
One time I was sitting in the study when an idea popped in my head. I stood up and made my way to the lounge, petting Whiskey, our cat, on the way. I entered the lounge holding a pen, looking around, wondering, why on earth am I in here? What was I going to do? Just ten seconds ago I was in the other room and I came into the lounge for a reason.
Short-term memory lasts, on average, 5 seconds. To store that memory for later, the brain wires it into your brain's long-term memory which has unlimited capacity. Storing information into long-term memory requires repetition and visualisation. More cognitive activity and less passive listening.
Create treasured memories with prospective clients
If you do all the talking, prospective customers are incredibly likely to forget most of what you said when they go to their next meeting – just like I did after petting the cat. However, if you get them talking about very specific topics, there's a greater chance your conversation will get tucked away in their long-term memory.
Attention is essential in the storing of information. Ignored information vanishes. By asking questions, you've got their full attention, and since they're doing most of the heavy-lifting, you're activating different parts of their brain, helping them create new neural networks. This in turn promotes retention and stimulates critical thinking, which helps lead them to the awareness of your product or service.
But isn't asking too many questions rude or pushy?
It depends what you ask and when. For example, if you met someone randomly and they asked for your inside leg measurement, that would be totally weird, wouldn't it? It's nosy, it would most likely annoy you, and you certainly wouldn't answer them, right? I mean, how dare they!
The magic ingredient​​​​​​​
But what if they first complimented your clothes? Asked where you bought that outfit, where else you shop, your favourite designers, why you like them? You might excitedly talk about fashion and your style preferences and inspiration for about 15 or 20 minutes. And then, they say they're a fashion buyer and happen to have a pair of your favourite designer's trousers lying around. Would you like it? Yes please! And to make sure it fits, they ask for your inside leg measurement.
See? The same question is asked in two different contexts. One is weird. The other gets an overwhelmingly positive response. It's not rude, nosy, or pushy. It's embraced with gratitude. One magically added ingredient (context) makes all the difference.
Other trap door openers
The biggest problem with questioning, is not knowing what to ask. We're not wired to ask questions, we've been programmed to answer them. If you run out of questions, you go into pitch mode. I've seen this many times.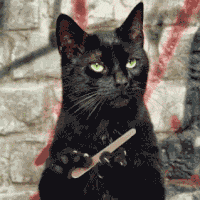 And you know what happens when you go into pitch mode; the lights go out and the prospective client checks out and you and your idea tumble down the trap door into oblivion.
Asking the wrong questions is another major trapdoor opener; the bigger problem behind this is not knowing what makes a good or bad question. You don't know what you don't know.
Have you heard the phrase …
…"you get what you ask for"? This is true of the questions you ask others. Typically, people new to sales ask what psychologists call, "lower-order questions". But with prospects, you need to ask higher-order questions, which elicit deeper answers. Deeper answers form the foundation of motivation and the desired action you need to win sales.
Poor questions create confusion, intimidate prospects, deter them, deplete your value, and shut down prospects. If they don't deaden sales, they extend sales cycles by six-months or more.
One simple question helping you avoid the trapdoor
Here's a question for you to begin using today.
What do you think about _____?
That's it. Oh, and don't be deceived by its simplicity.
Here are three scenarios where you could use the question,
What do you think about _____?
Example 1
Let's say you're selling massage services to someone who believes it's a luxury instead of necessity. You know massages are a proven stress reliever helping you sleep well, work well, and be a little happier. You want to change their opinion about massages, from a nice-to-have, to a must-have.
Here's how this question could help you.
What do you think about how stress plays out in people's lives?
Instead of telling the other person how stress impacts their life – which is annoying and can be perceived as patronising – asking this question helps you learn what the other person's perception of stress is, while helping them recognise how stress impacts their life.
Example 2
Imagine you're selling some sort of training services. I'll use me as an example. The person doesn't think it's a high priority.
So instead of extolling the virtues of my service, I might ask:
What do you think about how mindset impacts performance activities, like sports?
People commonly fail to realise how their mindset impacts sales performance. So instead of delivering a lofty sermon about how everything they do starts with mindset, I get them thinking about and linking performance with mindset.
Example 3
Final example. Well done for keeping up!
So now you're selling a cloud software or an app of some-sort. Some people can be averse to new technology, but you're just not sure where they stand. Instead of launching into your pitch, first find out how they feel about it.
What do you think about cloud software services?
Yes, that's it.
That simple question gives you the opportunity to hear what they think about your software. If they don't like it, you get to find out why. When you find out why, you can help turn that around. Otherwise, you don't know, you end up pitching, you can't help them understand, and you lose another opportunity down the trap door.
Get started today
Use the question What do you think about ________ ? today in just three conversations.
Leave a gap after asking, let them answer. A common mistake is feeling uncomfortable with silence, jumping in and answering the question, or just rattling on for too long. And watch what happens.
Want more?
If you want to learn more about how you can grow your sales mindfully, and practise in a safe environment, book your seat at a London workshop.